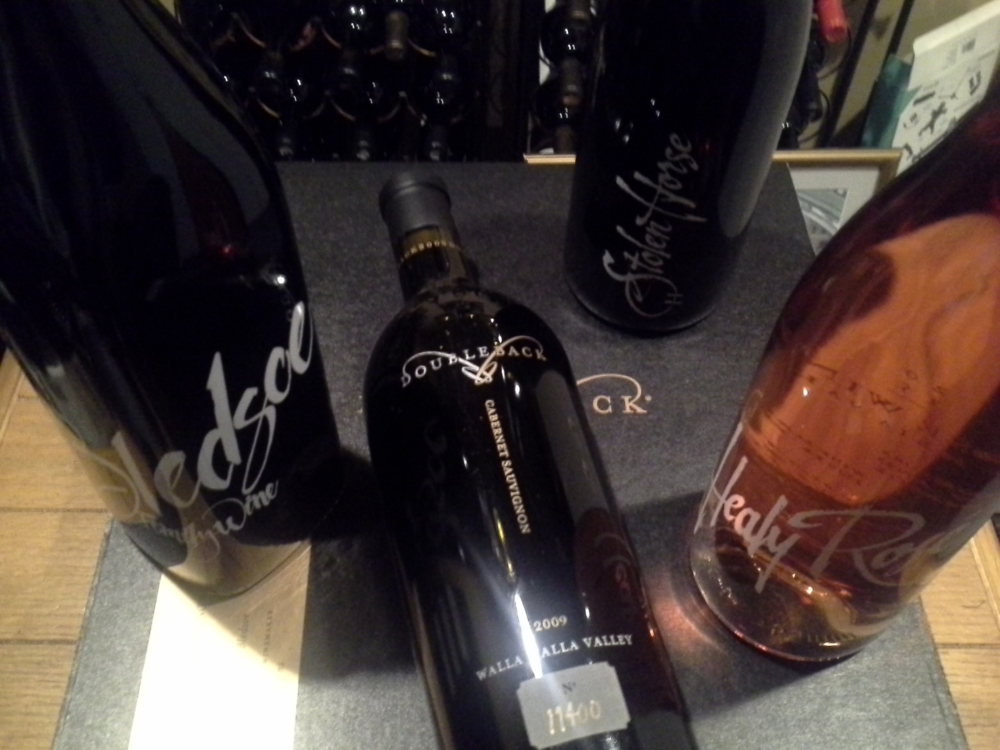 Drew Bledsoe has spent as many years (9) being a farmer of vines as he spent quarterbacking the New England Patriots (1993-2001).
Boy, how time flies!
Today, at age 44 (he'll be 45 on Feb. 14, 2017) the Patriots' Hall of Famer is still turning out winning seasons but on a different turf — the sloping, mountainous vineyards of eastern Washington State where he's become one of Walla Walla Valley's leading wine producers.
Each new vintage of his highly acclaimed Doubleback Cabernet Sauvignon ($99 in stores, $89 from the winery) just keeps getting better.
Tonight, Drew Bledsoe and his wife Maura will co-host a private wine dinner with Cindy and Michael Kuenzler, at the Kuenzlers' Four Oaks Country Club in Dracut. The event is sold out.
The Bledsoes founded Doubleback Winery in 2006-07 and today the huge investment in time, energy and capital is paying off. They own two prime vineyards and are building a state-of-the-art production facility and tasting room that is scheduled to open in 2017.
Their wine portfolio has grown to include Bledsoe Family Wine Blend ($38), Stolen Horse Syrah ($48) and Healey Rosé ($18). (The
winery's first white, a Chardonnay, is also in the works.)
I've been a Doubleback allocation list member since 2009. It costs nothing to join (www.doubleback.com), and it ensures each member the first chance to buy Doubleback wines and receive other special offers.
Here are my notes on Doubleback's Cabernet Sauvignon for the past five vintages.
• 2009 Doubleback — This was the first one I tasted and it remains an all-time favorite. I still have two bottles left from the original case. Leonetti Cellars' winemaker Chris Figgins, Drew's high school friend, blended this beauty (76 percent Cabernet Sauvignon, 14 percent Merlot, 10 percent Petit Verdot). It's gotten creamier with age.
• 2010 Doubleback — Several analysts say this is the bottling that put Bledsoe's Cabernet Sauvignon at the top of the charts. It's very precise and polished. Big, bold blackberry, licorice and chocolate flavors. The finish endures through a Patriots' late-game, 2-minute drill.
• 2011 Doubleback — This was the first vintage where a majority of the grapes (80 percent) came from Bledsoe's own vineyard. The huge investment risk (remember Drew's $100 million Patriots' contract?) paid off in a stunning wine. Expert Stephen Tanzer gave it 94 points calling it "plush, pliant and sweet … the best wine yet under Drew Bledsoe's label." I say it's simply superb in every way.
• 2012 Doubleback — We drank this over the July 4 weekend and it's better now than ever. Everything is coming together nicely. Great ruby red and violet color. Persistently good black cherry and blueberry flavors.
• 2013 Doubleback — All Bledsoe wines are elegant but this one stands out. It made several Top 100 Wines of the Year lists. Here's how I see it: I own a tuxedo and get to wear it once or twice a year to big events. This is my "black-tie" wine for such memorable occasions. It's very classy from sight, smell, sip to swallow.